Hello from Malambo Grassroots! We have some wonderful updates to share with you about our various projects and activities in Zambia! The support we continue to receive from our wonderful donors and from Rose Charities, has allowed our many programs to continue. From old students to new students to a music residency! Read on for the latest!
Scholarship Students:
Coreen Mweetwa
 Coreen, who we've been supporting since 2014, is busy   finishing her practicum for her nursing degree and hoping to   specialize in pediatrics or surgery when she graduates. In her   words:
 "At the moment I love the course operating theater, it amazes me to see a surgeon making an incision and removes or fixes what causes somebody to be in pain. And on another hand I also love paediatrics, the kids are very special and interesting creation…. Currently I'm summarising with my practicum and i have really enjoyed them and learnt a lot, I feel excited when I remember the day I helped to resuscitate someone using CPR… Wow. It's all thanks to you for your support and help."
Iven Moonga
Iven, who we've been supporting since 2014, is now in his last year of studying nursing. He has really enjoyed his experience and learned a great deal from his practicum:
"Throughout the little experience I have had from the hospitals I have
gone to, I have found more interest working in two areas; the
Intensive Care Unit (ICU) and the Operating Theatre departments and I
realize this is where exactly my passion lies, I do best in these two
areas and this has made me make up my minds to specialize in any of
these areas later when I'm done with my General nursing.'
Click here to read a full letter from Iven about his experiences in studying nursing and the powerful impact of the scholarship that your kind donations have afforded him.
Sizwani Kaonga
An update from a former Malambo scholarship recipient! We first mentioned working with Sizwani in our 2014 update. At that time, she was just beginning her nursing degree. She has now graduated from nursing and is enjoying her work at the Clinton Health Access Initiative as a Field Coordinator for Mpulungu district in northern Zambia.
Douglas Habeenzu
Malambo Grassroots began supporting Douglas in the last year of his degree program. He graduated with his teaching diploma in December of 2018 and is now working. Prior to his graduation, he sent this message of gratitude:
"I want to tell you that I am very grateful for your kindness you have been showing to me because without you, I could not have reached the stage I am today. I pray that God will bless you and keep you safe as you continue helping me achieve my dream. I will be writing to you from time to time to let you know know how I am doing here. May God bless you abundantly. Yours sincerely, Douglas Habeenzu"
Scholarship Recipient School: St. Vincent de Paul
Sister Lontia has been looking after the students of St.Vincent de Paul and working with Malambo Grassroots for almost a decade. Sister Lontia writes:
"Gratitude to Malambo grassroots for the support during the year 2018 St. Vincent de Paul has been one of the beneficiaries of the school fees scholarship for primary and basic school going children.  We have managed this scholarship since 2011 and it has since supported [numerous] secondary school children ..and pupils from the primary section.  Of all these are orphans and vulnerable. The fund also supports two young men at the tertiary level. These are Kalaluka Chrispin who is study art at the University of Zambia and Chimuka Ngilazi who is studying Religious Eduaction, Civic Education and guidance and counseling at Technical vocational training college. He will be completing in April 2019."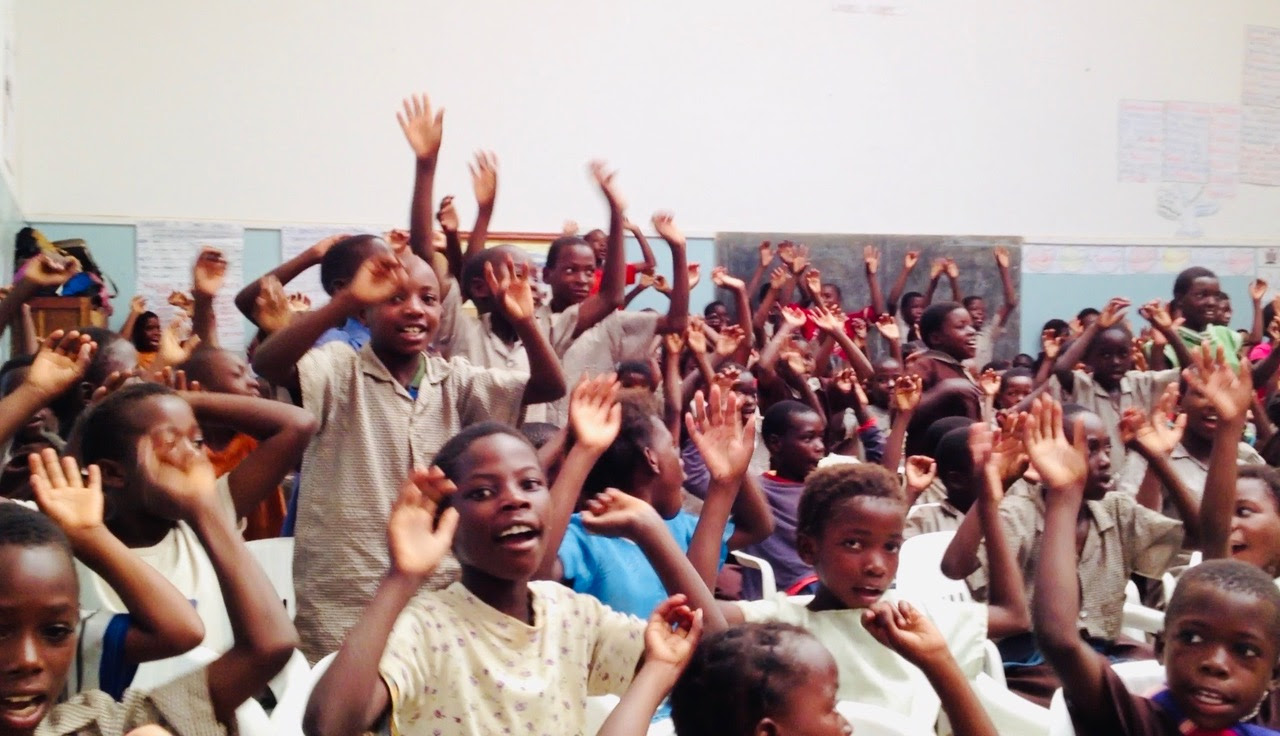 Last year, Malambo Grassroots   supported 17 St. Vincent de Paul   students at the elementary school   level, 6 at the high school level, and   2 at the college level plus one   student, Crispin Kalaluka, who just   graduated from the University of   Zambia (UNZA). That's 26 students   through the program last year   alone!
Sister Lontia has done incredible work. Some of the other projects she has managed, and continues to do so, include:
Building a water reservoir for the school  garden is in progress
Their free range poultry house, an income-generating project to support school funding, has been expanded and there are now 132 chickens
The school continues to expand their library and books
Sister Lontia also works with the families of students to address challenges to meet the required school fee payments:
"The school has started some mothers club called Tugwasyane club(let us help each other) mother just completed their four months training in tailoring so that they could be doing a variety of things for sale so that a percentage will be given to the school for payment of fees for their children and the rest it will be for their sustenance at home."
Sister Lontia's full letter of gratitude can be found on our website here.
Ngoma Dolce Music Academy (NDMA)
Malambo Grassroots continues to support children who would not otherwise have access to music through the scholarship program at NDMA.  We also regularly send over donated musical instruments and we will be accepting donated strings this year, as they are most needed! A big thank you to One Tree Hill Sinfonia who performed a benefit concert for our NDMA programs last September!
At the request of NDMA, this year, we were also able to support the teachers build upon their wonderful music program  by sponsoring Laura Barron in a joint collaboration with her charity, Instruments of Change. Read more below on her exciting music residency at NDMA!
Laura working with the teachers at NDMA.
A Volunteer in Zambia!
 We've just had Laura Barron, a Malambo Grassroots   volunteer, return from 3 weeks in Zambia! Laura is an   innovative classical musician, with limitless, inspiring   abilities in pedagogy, music-making, creativity and   bringing people together. Her time with our NDMA   teachers focused on community engagement tools   intended to enhance teaching approaches, as well as   leading dialogues around strategy and learning   methods. Read more about her trip here –an excellent   account of her experience, the people she met and the   music that was played!
THANK YOU!
As always, we cannot thank our wonderful donors enough! Your continued support has allowed our programs to expand and thrive, and change lives in incredible ways. Please see our donations page for details should you like to contribute financially. Should you wish to assist Malambo Grassroots in other ways, please feel free to share our newsletter and tell the stories of those we support! We are a member of Rose Charities Canada and Rose Charities UK, and further information about Malambo Grassroots can be found on their websites and ours!
With gratitude,
Jocelyn, Heidi, Sarah, Toni, and Marylee